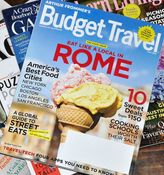 A long association with Chef Kathy Cary has produced a mutual admiration between the renowned chef and Col. Bill Newsom's Country Ham. When Chef Cary was featured in Budget Travel magazine, June 2010 issue, Newsom's was on the list of her six favorite places.

Cary's renown speaks for itself. The Louisville chef/owner of Lily's Bistro is a five-time James Beard Foundation Award nominee.

"At Lily's Bistro in Louisville, Cary combines the ingredients — catfish, country ham, locally sourced meats, cheeses and produce — of her native state with flavors and techniques from Europe, Asia, and the Mediterranean to create some of the Bluegrass State's most innovative dishes."

As one of Cary's favorite Kentucky places, Col. Bill Newsom's Country Ham was listed as the "best aged ham, a James Beard favorite." Visitors are invited to "meet Nancy known as the 'Ham Lady,' and daughter of Col. Bill.

Lilly's Bistro is located at 1147 Bardstown Road, Louisville; 502.451.0447; www.lillyslapeche.com.