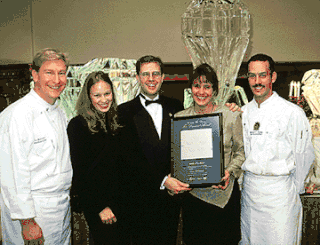 Col. Bill Newsom's Aged Kentucky Country Ham was in elite company in November 1998 at a ceremony to recognize Louisville's Seelbach as the first AAA 5-Diamond award winner in Kentucky. Newsom's Country Ham was one of six food industry award winners recognized at the special program in Louisville.

As the 5-Diamond award winner, the Seelbach Hilton's Oakroom hosted the press conference and reception for the announcements in the grand lobby mezzanine of the hotel. Nancy Mahaffey, owner and operator of Newsom's, said that the program marked a milestone for tourism in Kentucky and for her store's involvement in the attractions of the Seelbach.

Pictured at the ceremony are Jim Gerhardt, then Seelbach Hilton Executive Chef; Alisa Mahaffey, of Newsom's Old Mill Store; Adam Seger, then Seelbach Hilton Director of Restaurant; Nancy Newsom Mahaffey of Newsom's Old Mill Store and Mike Cunha, then Seelbach Hotel Chef de Cuisine.

The Louisville hotel is a long-standing customer of Col. Newsom's Ham and several of the hotel's restaurant recipes include the Princeton product.

Newsom's ham was the winner in the competition for "most outstanding atrisanal product." The foods in this class were described as "bringing handmade Kentucky regional food products to world class standards. The other finalists in this category were Kentucky limestone bibb lettuce and Gethsemani Trappist cheese. Other award categories on the program included outstanding supporter of agriculture and tourism, culinary education and development, signature culinary products, worldwide quality imaging.

Director of Restaurants Adam Seger said the honor brought a phenomenal impact on tourism, food service and many other industries in the state, as well as offer bragging rights for Kentucky as one of only 19 states and 43 restaurants in the country to have the prestigious 5-Diamond status.

Mahaffey, whose family has been producing hams in the smokehouse for over 70 years, said that the recognition shows why it has been a matter of pride to maintain a traditional method of production.

Newsom's hams are sold to customers across the counter at the Old Mill Store on East Main Street and are offered through mail order. There is no other source.